Cold Laser Therapy at Anew Medical and Rehabilitation
If you're struggling to get over a nagging injury or seeking to manage a chronic pain condition without becoming dependent on drugs, you'll be excited to learn about an advanced technology that can help you feel and function like yourself again. Low-level laser therapy, also known as cold laser therapy, offer safe, drug-free, non-surgical injury rehabilitation and symptoms relief for a wide range of conditions -- and our Joliet chiropractor at Anew Medical and Rehabilitation is happy to offer it to you.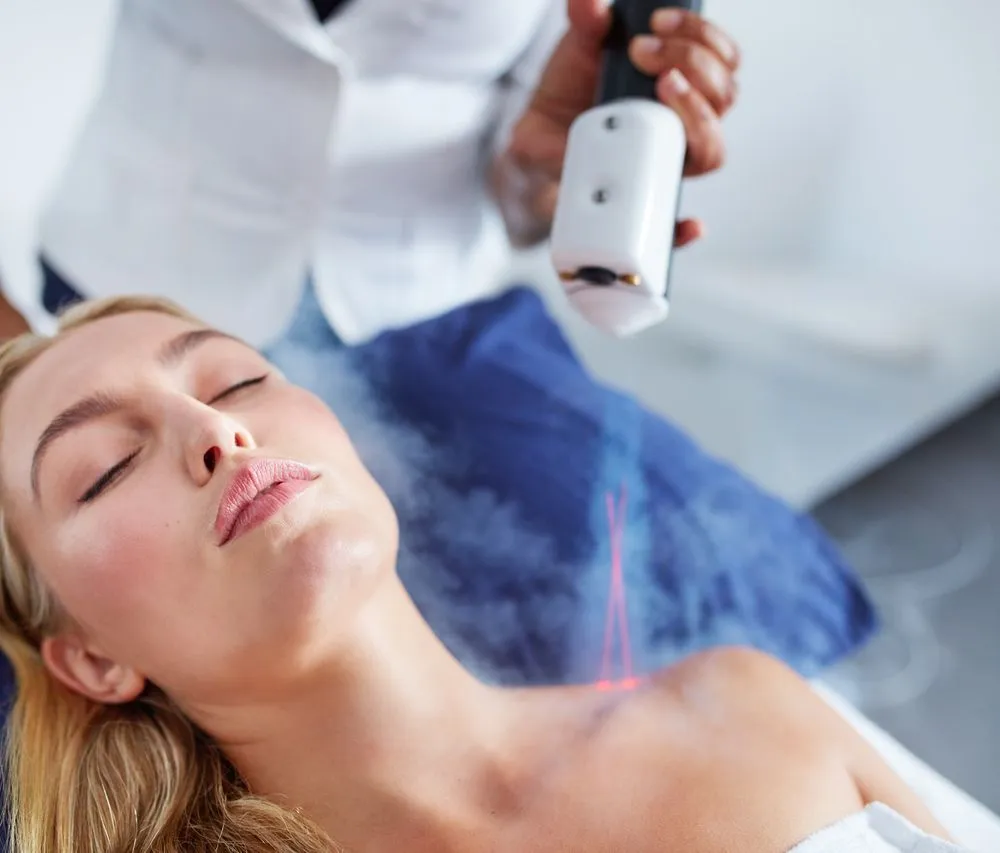 What Is Cold Laser Therapy, and How Does it Work?
The "cold" in "cold laser" refers to the relative frequency range of low-level laser therapy compared to the frequencies used by surgical lasers, which cut and cauterize tissues with pinpoint precision. By contrast, a cold laser doesn't damage or affect the skin at all; instead, it passes harmless and painlessly through the skin to direct its energy on the tissues underneath.
The wavelength of the cold laser has remarkable effects on the area of tissue being treated. For one thing, the laser energy causes the mitochondria in cells to produce more of a substance called adenosine triphosphate, or ATP. Since ATP fuels cellular repair and regeneration, the cells can greatly increase their work of rebuilding injured or ailing tissues. This makes cold laser therapy a powerful healing and rehabilitation tool. Cold laser therapy also has a circulation-boosting effect, enhancing both flood flow and fluid drainage at the treatment site. This aids in the reduction of edema (swelling), pain and inflammation. Not only can this benefit provide pain relief and pain management for a variety of conditions, but its inherent safety allows you to make use of it as frequently as needed, with no worries about drug interactions or other side effects.
A Multitude of Healing and Pain Relief Applications
Cold laser therapy has demonstrated an ability to support muscle repair, collagen and cartilage regeneration, bone formation and even nerve healing. This versatility, coupled with its warming and relaxing effect on muscles, means that it can prove effective for conditions such as:
Carpal tunnel syndrome
Sports injuries
Back and neck pain
Tendonitis
Fibromyalgia
Plantar fasciitis
Whiplash injuries
Knee pain
Tennis elbow
Arthritis
Headaches and migraines
Our chiropractor may include cold laser therapy as part of an individual, multi-modal treatment plan designed to suit your specific needs. This technique complements such other natural, conservative measures as chiropractic adjustment and massage therapy. A typical cold laser session at Anew Medical and Rehabilitation takes just a few minutes (depending on the location and severity of the condition) and causes no discomfort whatsoever -- in fact, you will most likely enjoy the warming effect it produces.
Call Our Joliet Chiropractor to Learn More About Cold Laser Therapy
If you think that cold laser therapy might just be good for what ails you, discover more about this amazing high-tech healing and pain management technique. Contact us at 815-207-7463 to schedule a consultation